Living life alfresco – 5 Ideas to Improve Your Outdoor Space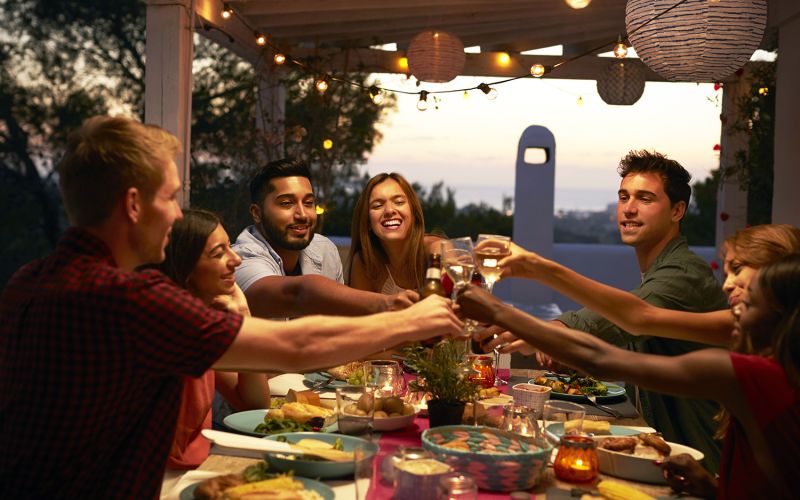 Now that summer is in full swing, it is a fantastic opportunity to turn that outside space (or patio) in your garden into a relaxing setting to escape to at the end of the week and enjoy those long summer nights. There is nothing better after a long hard week than unwinding with a nice cool drink or dining alfresco and enjoying the weather in comfort.
The current weather means that outdoor living is a huge part of enjoying our homes, the key is making the most of your outdoor space to make you feel better. In these busy times we live in, it's become clear that having a connection to nature is positive for our wellbeing, so it's important to ensure that our outdoor space is functional, enjoyable and relaxing.
Below we have outlined five ideas that can transform your outside space into something truly magical.
Shelter & shade
Enjoying the sun is an opportunity we need to grab with both hands at this time of year, but it is also imperative to ensure that we are also comfortable to be able to enjoy the benefits of this weather.
Having some shelter allows you to enjoy the outside space for longer and provides some much-needed shade for when the heat becomes a little too much and if the weather should turn, there is plenty of cover for you to be under.
Our selection of awnings can provide this cover, stylish and beautiful they work not just as a shade, but as an extension of the outdoor space, fitting in with your home.
There are different awning options available, all of them fitting in ergonomically with your home so they act as an extension of your interior and a transition into your beautiful outside space.
Whether it is the sleek and stylish Zenith retractable awning or the wood and aluminium Gennius. We can provide a personal service to match you with the perfect awning, simply contact us to arrange an appointment to discuss your ideas.
Seating
The best way to make the most of your space and to really enjoy your outside patio area is to make sure you have the best seating.
Seating allows you to create a peaceful area for you to relax in and for you to be able to entertain guests so they can share in your summer days and evenings.
Whether you follow the latest trend and opt for round table seating or purchase a classic bench, you can sit back, relax and enjoy the weather.
Seating also allows you to create a more social area in your outside space, perfect for gatherings so you can share your relaxation with friends and family.
Soft furnishings & colour
For seating, it can be brought to life with some soft furnishings, providing comfort for yourself and your guests to continue enjoying your space long after the sun sets.
To keep an ongoing summer theme, use strong vibrant colours to really bring the patio to life.
Our range of fabrics cover the four key areas for the perfect design; texture, pattern, colour and layering. To get the most of your outdoors space we consider your needs.
Need and style must both be considered equally during the design phase if you are to get the most from your space.
We have a wide variety of fabrics and designs for you to choose from and we can go through the different options available to help transform your outside space.
BBQ
When the weather changes like this, the first thought we all have is to host the barbeque to end all barbeques.
If you have a fantastic outdoor space, then you'll want to be dining alfresco and enjoying your outside area. Having the facility to cook in, or nearby, means that you can ensure that you can be the host for memorable days in the summertime.
When you design and layout your outdoor space, try to think about where you place your barbeque or how close your cooking facilities are.
Having plenty of space for a barbeque whether it is a built-in unit or a standalone barbeque allows you to still entertain your guests and relax, without worrying about where you'll be standing.
Arranging your furniture in your outside space, gives you room to move around and freely provide drinks and food creating a relaxing environment for everyone.
The inside and the outside
Your outside area, is your connection to the outside world and your home. For some, the patio may be the entirety of the outside space and for others it forms part of the garden as a whole.
It's important to think about how you transition from inside to outside and it's key to remember that your outside area is another room of your home, it must share a connection with the interior of your home and the exterior.
Using transitional colours in your outside area, colours that share shades with your interior and with the greenery and blue skies outside helps in creating a natural flow for when you walk outside to relax.
We can sit with you and go through the different options available to ensure that everything from your fabrics to your awning both compliments your home and the outside world.
Finally
Summers in the UK are all too short and it is vital that we make the most of the splendid summer we have, maximising the potential of your outside area would allow you to both relax and fully appreciate nature.
At Butterley Barn Interiors we can work with you in bringing your outside space to life with the simplest of touches and we hope you contact us to further find out how we can help you!
Making the most of your outside space and patio can best ensure that after a long day you can enjoy your summer at leisure!
You and your outdoor space deserve the best this summer!