Are Motorised Blinds Worth It?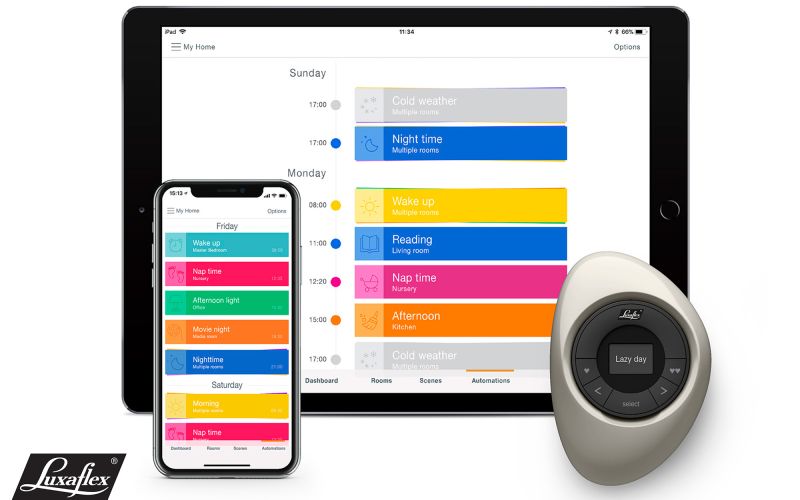 There are two schools of thought when it comes to motorised blinds.
Some homeowners believe that they are a perfect example of how we can make technology work for us and vastly improve our lives. Other homeowners think that if it's not broken, there's no need to fix it – and they are an expensive and unnecessary luxury.
It's true that motorised blinds cost more than traditional blinds, so choosing whether to upgrade yours requires careful consideration. Would they be a worthwhile addition to your home? Read on to find out.
Yes, motorised blinds are worth it
Motorised blinds are convenient and beautiful
There's no doubt that motorised blinds are extremely visually appealing. They have a sleek and modern appearance, with no cords or chains to clutter the look of your windows.
Motorised blinds look fantastic against the large windows that are commonly found in new buildings. If your windows are large or difficult to reach (e.g skylights) then operating traditional blinds can be a bit of a pain. These blinds allow you to adjust the blinds on your floor-to-ceiling windows or the top of your conservatory effortlessly.
Save money on your energy bills
Motorised blinds come at a higher initial cost than regular blinds or curtains. However, they can help you lower your energy bills in the long term.
Opt for blinds with sun sensors or connect your blinds to your thermostat via a smart home system. Your blinds will be able to detect when the weather is good, and automatically open so the sun can warm your home without the need to turn on your heating. Then as the evening approaches, your blinds can be automatically drawn to retain heat in your rooms through the night. It's possible to have your bespoke blinds made from insulating materials, reducing heat loss during the winter and heat gain during the summer. By customising the settings on your blinds, you can use their insulating properties to reduce your energy bills.
Remote monitoring
Forgot to open or close your blinds before leaving the house? No problem! Some motorised blinds can be controlled from your smartphone, allowing you to adjust your window treatments with just a few taps. Ensure your blinds are always on the right setting, even when you're not there to physically adjust them.
Less physical work
If you're disabled, elderly or suffering from mobility impairment, physically opening and closing your blinds every day can be challenging. Motorised blinds allow you to adjust your blinds with just a remote control or wall switch. That means you can save more of your energy for other things you want to do.
Improved sleep
You can use light to cue your body about when it's time to sleep and wake up. In fact, it's one of the best ways to improve your sleep schedule. This is because external light has a large effect on our circadian rhythms and melatonin production. With motorised blinds, you can create a "morning" setting where they gradually begin to open from a certain time. This allows you to wake gently and naturally as your room fills with light, avoiding those groggy mornings.
No, motorised blinds are not worth it
Motorised blinds cost more
These window treatments are generally more expensive than traditional blinds or curtains, so they come with a larger upfront cost. However, they often make up for the extra cost in terms of convenience and other benefits they offer.
Motorised blinds may require maintenance
Battery replacement or motor servicing might add to the long-term costs of keeping your blinds in good working order.
Motorised blinds can seem complex
Some homeowners find the technology behind motorised blinds to be intimidating or overly complex, which can make troubleshooting and programming a challenge.
These blinds certainly aren't for everyone. For instance, a homeowner who is not comfortable with using modern technology will likely prefer traditional blinds. Despite this, motorised blinds come in varying levels of complexity. For instance, some are controlled by a simple wall switch – an attractive option for someone who is less tech-savvy.
On the other hand, these blinds are a fantastic option for homeowners who love to use technology to improve the quality of their day-to-day life. Your blinds can be as simple or as complex as you'd like. Play around with different options using your phone throughout the day or choose your settings beforehand and link your blinds to your smart home system for effortless monitoring.
Reliability issues
Motorised blinds rely on electricity or batteries to function. Power outages or battery failures can render your blinds temporarily unusable. However, here in the UK power cuts are extremely rare, so this is unlikely to be a noticeable problem for most homeowners.
Limited styles and options
Not all blinds are motorised, so there may be fewer options on the market when compared to traditional window treatments, which have been around for hundreds of years.
However, you can get around this by choosing a brand like Luxaflex. It's possible to customise most of their blinds, as well as motorise them. With a huge range of luxury blinds available, you're sure to find something that suits your tastes and interior décor perfectly!
So, are motorised blinds worth it for me?
Whether these blinds are the right choice for you will depend on who you are as a person. If you love efficiency, convenience, and enjoy synergising many parts of your home, then motorised blinds are worth the investment for you.
blinds, home, interiors, motorised blinds, powerview motorisation