Roman Blinds: Where History Meets Modern Design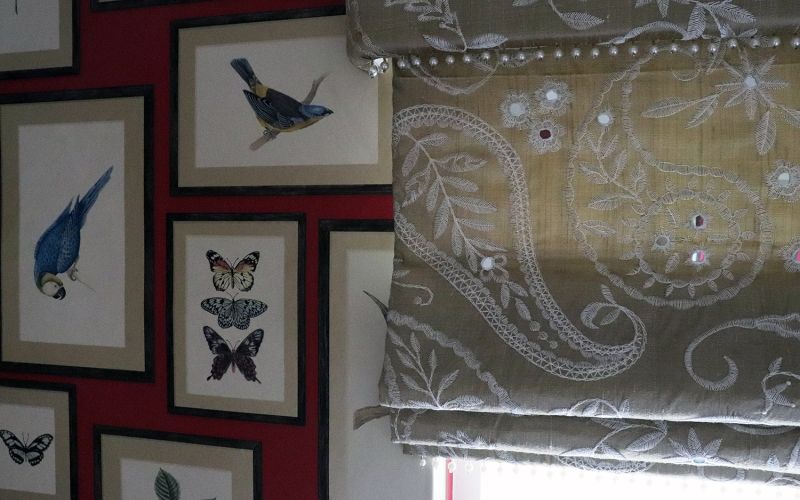 From their humble origins in ancient Rome to the contemporary designs available today, luxury Roman blinds bring sophistication and style to any space. Wondering whether designer Roman blinds are the right choice for your home? Read on to find out what makes Roman blinds stand out against other window treatments, as well as the pros and cons of incorporating them into your home décor.
What are Roman Blinds?
Roman blinds are fabric window coverings that are effortlessly raised or lowered using a pull cord mechanism. These blinds feature rings sewn onto the back side of the fabric, creating evenly stacked horizontal folds when raised. This unique design allows for versatility in light control and privacy. It's no wonder they are such a popular choice among homeowners seeking both functionality and aesthetics.
A History of Roman Blinds
The origins of these luxury blinds can be traced back over 2,000 years to ancient Rome. Initially, these blinds served a purely functional purpose in a time when glass was not yet used to cover windows. The roads were very dusty from horses and carts passing by. Wanting to protect their homes from the dust, Romans began hanging damp cloths over their windows. This allowed them to keep the dust out and provided protection from the heat of the midday sun. The first Roman blinds were made from linen or hemp. With time, the damp cloth evolved into a soft furnishing adorned with various patterns and colours.
As the Roman civilisation flourished, home decoration became an integral part of their culture – leading to the invention of luxury Roman blinds. The introduction of a drawstring mechanism allowed homeowners to regulate the amount of sunlight and airflow, enhancing their comfort within the home. These opulent blinds even found their place in grand structures like the Colosseum, adding a sense of grandeur and helping to keep spectators and fighters cool. Today, the basic design of the Roman blind has hardly changed. The style is simple, yet stylish and effective.
Why choose Roman blinds?
Enhanced privacy: Roman blinds offer complete coverage when closed, ensuring maximum privacy for bedrooms or other areas requiring seclusion.
Sun protection: Roman blinds shield your living spaces from the sun's harsh rays, protecting your furniture and interiors from fading over time.
Light control: Roman blinds are crafted from a single piece of fabric instead of multiple slats (as found on most other blinds). This provides unparalleled light control. When these blinds are closed, they can effectively block out all external light sources.
Temperature regulation: With the option to choose insulating materials, designer Roman blinds can assist in maintaining an ideal temperature within your home.
Stylish design: Roman blinds bring colour, style, and pattern to any room, serving as a statement piece that complements your overall decor.
Soundproofing: The fabric construction of luxury Roman blinds helps dampen external noise, promoting a peaceful and serene atmosphere.
Are these blinds right for me?
When deciding whether Roman blinds are the right option for your home, it's important to consider your personal style and lifestyle requirements, as well as the shape and size of your windows. As with all blinds, they have benefits and drawbacks.
Benefits of Roman blinds
Diverse styles: Designer Roman blinds are available in many different styles – perfect for those with eclectic tastes or those seeking unique design options.
Full of character: These blinds have a soft, plush aesthetic, lending a luxurious quality to your windows.
Suitable for some smaller windows: Roman blinds make an excellent choice for windows that appear overwhelmed by curtains.
Longevity: With proper care, these blinds are durable and can withstand the test of time.
Lightweight and budget friendly: Roman blinds don't weigh much and are easy to handle. Because they require less fabric to make, they can be a cost-effective alternative to bulky curtains.
Blackout options: Designer roman blinds can be made from blackout materials, making them an excellent choice of blinds for light sleepers.
Drawbacks of Roman blinds
Moisture sensitivity: Roman blinds are typically made of fabric. They may not be suitable for high-humidity environments such as bathrooms or kitchens.
Limited positioning: Unlike some other blinds, they only have two available positions – fully raised or fully lowered.
Maintenance requirements: Regular dusting is recommended to keep your luxury Roman blinds clean and free of debris.
Safety considerations: For households with pets or children, cordless Roman blinds are recommended to mitigate potential safety hazards.
Design considerations: Traditional Roman blinds may appear slightly bulky, reducing natural light and making windows appear smaller. However, contemporary designer Roman blinds offer solutions to maximise natural light and create an illusion of larger windows.
Conclusion
Choose Butterley Barn for a truly customised and seamless integration of designer Roman blinds into your home décor. We have carefully curated our collection of materials to offer an array of options for every taste. Whether you prefer classic elegance or contemporary chic, we have the perfect material to bring your vision to life.
Every blind is made to measure by skilled artisans in our Staffordshire studio. Contact us or learn more about our luxury Roman blinds collection.