What Blinds are Best for Bathrooms?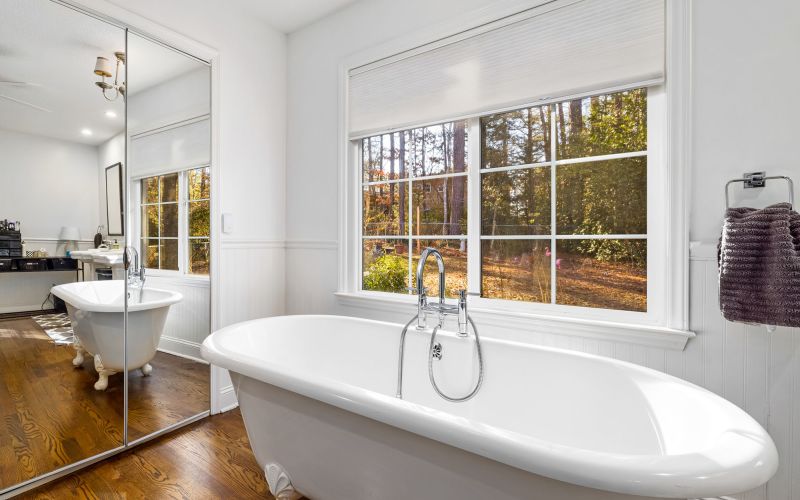 Every home has at least one bathroom. However, they can be quite hostile environments for most blinds. Bathrooms become hot & humid when you take your daily shower or bath. Any blinds you choose to install in your bathroom may become damp or even wet on a regular basis. Choosing the right blinds for your bathroom, therefore, can be a more complicated process than choosing blinds for other rooms in your house. Not only do you have the usual concerns of light control and privacy to think about, but you must also consider the material your blinds are made from to prevent water marks and mould.
Should you have blinds or curtains in a bathroom?
In the vast majority of cases, we do not recommend installing curtains in your bathroom. Curtains are often made from fabric that won't withstand high levels of moisture. Blinds are a much better choice, but you should choose water-resistant materials that are easy to wipe clean.
Can you put any blind in a bathroom?
The short answer is no, there are some blinds we do not recommend for your bathroom. It's best to avoid most natural fabrics – think linen, silk, or cotton. While these can be fabulous choices for your living room or bedroom, they are likely to become water damaged in your bathroom. Instead, we recommend opting for synthetic and water-resistant materials like polyester or PVC.
Our guide to blinds for your bathroom
When choosing blinds for your bathroom, ask yourself the following questions:
What are the humidity levels like in your bathroom? Is it well-ventilated?
Is your window located close to your shower or bath? In other words, are your blinds likely to get wet?
Do you already have frosted glass, or will your blinds be providing privacy as well as light control?
Is your bathroom well-insulated, or do you lose a lot of heat through your bathroom windows?
Blinds for small bathrooms
If your window is located close to your shower and you are likely to splash water onto your blinds, ensure you invest in completely waterproof blinds for total peace of mind. Roller blinds are one of the most popular choices for bathrooms. They are frequently made from materials that easily withstand steam and humidity. Choose roller blinds made from PVC for good water resistance; this material can be quickly wiped down for easy cleaning. Roller blinds are available in a wide range of designs, allowing you to add a statement piece or a pop of colour in neutral-toned bathrooms. When you're not using them, roller blinds fold neatly away – leaving you plenty of space for decorations or toiletries on your windowsills.
Blinds for cold bathrooms
We've all been there before – the weather is starting to get colder, and your bathroom is unbearably chilly when you get up for work in the morning. If your bathroom is often one of the coldest rooms in your house, choose blinds with a cellular structure to trap the heat and keep the cold out. We recommend made to measure Luxaflex Duette® blinds – some of the fabric options have water-resistant properties.
Blinds for bathrooms with large windows
Bathrooms with large windows are quite rare, but if you're one of the few with floor-to-ceiling windows in your bathroom we recommend vertical blinds. They are available in wipe-clean fabrics like PVC; these moisture-resistant finishes make maintenance a piece of cake. Vertical blinds are an ideal choice for very large windows. The louvres can be opened or closed to just about any angle to allow for ultimate control over the amount of privacy and light required in your space.
Blinds for large and airy bathrooms
If your bathroom is exceptionally large and well-ventilated, you may be able to get away with blinds that are made from fabric. In a large bathroom with lots of hard surfaces, Roman blinds can add some welcome warmth and texture. They improve sound quality and acoustics in large bathrooms, preventing echoing. Your designer Roman blinds can even be made from blackout materials for extra privacy. However, if there's any doubt in your mind about whether your blinds are likely to get wet or suffer from damp issues over time, it's always best to err on the side of caution and choose alternative blinds made from water-resistant materials.
Best overall blinds for bathrooms
Roller blinds are the best option for the majority of bathrooms. They are commonly available in water-resistant finishes, and they provide good levels of shade and privacy in your bathroom. If you really want the ultimate option for light control, choose bottom-up roller blinds. These allow you to let light into your bathroom without compromising on privacy.
Shutters for bathrooms
In addition to roller blinds, shutters are one of the most popular window dressings for bathrooms. If your bathroom is small or the ventilation isn't great, we recommend avoiding real wood shutters. Environments with high levels of humidity can warp, twist or stain your real wood shutters over time. Instead, opt for faux wood – which can withstand damp surroundings without losing its good looks. Faux wood shutters also wipe clean, so you won't have to worry about water stains or condensation. We recommend café style shutters or tier-on-tier shutters for bathrooms. Unlike full height shutters, they allow you to let some light in at the top of the window, while still ensuring that nobody can see into the bottom half from outside. PVC, vinyl or faux wood are all excellent materials for your bathroom shutters.
Conclusion
The bathroom might not be the first room that comes to mind when you think about installing blinds. However, they have a range of benefits that go beyond just providing privacy. Your blinds could help you keep your bathroom warmer during the winter months or provide extra sound insulation on busy streets so that you can enjoy peaceful moments in the bath at the end of a long day.
At Butterley Barn, bespoke blinds are our specialty. Come and visit our friendly team of interior designers in our Staffordshire studio – we'd love to help you bring your vision to life. Contact us today for more information.